SONICA is a multifaceted company engaged in audio content production,
sound and technology development, and music software development.
Our name ? twinning SONIC and A, for grade A ability ? expresses our philosophy of continually striving for the best in sound and music. Synonymous with this, we take pride in the fact that the sounds we create, no matter how simple, are always musical.


more info.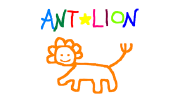 Ant Lion is a psychedelic and physical techno trio. It comprises Satoko Arita, bassist and vocalist that lends Ant Lion its stout but groovy bass-sound mentality, tomzuin h, erotic keyboardist and eccentric of the electro music world.


more info.